Our Vision
With our diversified array of high-content solutions and designs, we provide the means to accomplish portfolio goals and achieve substantial productivity and resource efficiency increases. Business successes in the new global economy are driven by international image and a heavy presence on the world's most powerful communication medium; the Internet. A successful portfolio must include the exchange of information on the global level, allowing international business to be conducted without barriers.
We represent the next generation of platform design consultation for an era of industry growth and prosperity. Our key to success is the global vision of content distribution and information availability. With this in mind, we deploy content-rich applications with no limits except for your imagination.
What we care about...
Green Platform
Doing our part to make the world a better place for future generations.
It's no secret that existing aging IT infrastructure has not been kind to our environment. We choose to adopt new hardware solutions which allow for scaling hardware on demand with the use of virtualization. By converting hardware to software, we can deploy the infrastructure we need without requiring a vast array of inefficient dedicated systems. We also utilize eco-friendly hardware with intelligent power metering to reduce our carbon footprint. This, combined with our scalable infrastructure business model, provides an efficient platform for application deployment which helps reduce detrimental impact to our natural resources.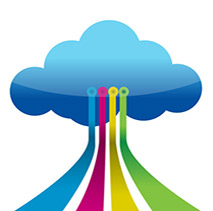 Cloud Computing
Smart content delivery with global application reach.
The optimized distribution of information is a key factor in allowing applications to grow and reach end users while maintaining low overhead and transmission latency. We believe the future of solution development will rely heavily on cloud computing resources as content delivery needs increase in our modern rich media era of business. The very essence of this business philosophy lies upon the fundamentals of global audience reach by removing traditional geographical restrictions in content delivery. We push strongly toward encompassing our portfolio solutions with distributed cloud based infrastructure design, allowing us to drive ideas and turning imagination into reality.
A New World
Designing and managing solutions for the future of business and industry.
The rapidly changing pace of the technology sector requires new ideas and modern designs. The game has changed and businesses must adapt to the new rules or risk being left behind. We've torn up the old playbook and now invest heavily into the research and development of cutting edge solutions to drive our portfolio. A business model fearful of change is a model which cannot survive the growing challenges of application deployment in an evolving industry. We identify the restrictions of aging infrastructure and work to create new deployment implementations to face the future of rich content application requirements.
Empowering People
Providing the skills and expertise for success to IT professionals.
Your organization relies on its workforce to provide results. A key requirement to achieving success driven by the workforce is ensuring the availability of tools and utilities while providing the needed training resources. We place the importance of knowledge at the core of our beliefs, and we work to create teams of experts driving this knowledge into the hands of the workforce. Traditional organizational management structures require the creation of new knowledge flow methods to overcome operational oversight. Utilizing efficient knowledge management within existing management structures will provide people with the power to attain success congruent with corporate goals and vision.